1st December 2017
Latest update from Iain:
At the Reserve on the 4th November were 70 Mallard and 19 Teal with Willow Tit up in the Orchard area. John Smith briefly had 3/4 Waxwings on tree tops in the Greenwood Close area on the morning of the 5th but alas did not stay long. In the same area around a Yew tree were a number of Fieldfare, Redwing, Blackbird and Mistle Thrush. Along Auldton Road on the 6th were many hundreds of Fieldfare which were observed by Garry. A comprehensive Reserve list on the 9th was compiled by Dave Bradshaw including a large mixed flock of Fieldfare and Redwing there were also 12 Long Tailed Tits, 4 Coal Tit, 3 Blue Tit, 2 Great Tit, 20 Chaffinch, 3 Pheasant, 5 Teal, 37 Mallard, 5 Moorhen, 4 Magpie, 10 Jackdaw, Great Spotted Woodpecker, Grey Heron, Mistle Thrush, Wood Pigeon, Wren and Robin while a Cormorant flew over the adjacent meadow. At the Community Reserve on the 11th were 3 Cormorant, 7 Little Grebe, 4 Moorhen, 6 Mallard and a male Tufted Duck. On our Reserve were 33 Mallard, 21 Teal, a juvenile Mute Swan, 2 Grey Heron, 9 Magpie (record count), 6 Stock Dove, 3 Mistle Trush, 30 Redwing, 80 Fieldfare, 10 Goldfinch and 150 Siskins feeding on the tops of the Alders. Once again the Auldton Road produced a most unusual sighting in the form of a Water Rail which passed in front of Garry. While at the Reserve on the 15th we saw Ravens on 4 different occasions which was noteworthy. A few days later while clearing the main ditch myself and Dave accidently flushed a Woodcock which was the first for the Reserve for many years and was seen twice later as we continued clearing other ditches. While having a well deserved tea break 12 Long Tailed Tits put on a fantastic show at very close quarters. The young Mute Swan was still on the Middle Pond while there were 15 Teal and 3 Grey Heron. On the adjacent Community Reserve was a male Wigeon, 4 Mallard, 3 Moorhen and 6 Little Grebe. A female Goosander was seen on the Birnock Water near Claudios. At Moffat Manor Country Park on the 23rd Dave Bradshaw saw a record count of 12 Little Grebe with 11 Mallard and 4 Moorhen with a Jay and a Raven in the area. Afterwards up the Red Brae Dave saw 3 Bullfinch, Grey Heron, Buzzard, 5 Blue Tit, 3 Great Tit, 6 Blackbird, 4 Chaffinch and 2 Robins. On the 25th Garry saw a Barn Owl hunting over the Reserve as he headed back into town late afternoon while on the Reserve were 25 Teal and 2 Roe Deer were seen again. Down at the Reserve on the 27th were 31 Mallard, 16 Teal, 3 Moorhen, 10 Jackdaw, 4 Chaffinch, Coal Tit, Pheasant and Mistle Thrush. During the month Grey Squirrels were seen up Dundanion Road and the Chapelbrae though Red Squirrels were seen up the Gallow Hill. At the Reserve on the 29th I saw a female Merlin fly briefly over the wetland area and a Raven went by. Along the Birnock Water 2 male Bullfinch were seen and 3 male Pheasant and 2 Treecreeper were seen by Tom Thompson at Meadow Bank.

23rd November 2017
Some recent reports from Dave Bradshaw for our reserve
05/11/2017 - Fieldfare 10, Redwing 14, Long-tailed Tit 9, Pheasant, Jackdaw, Grey Heron, juvenile Mute Swan, Chaffinch, Coal Tit, Great Tit, Blue Tit, Tree Sparrows 3, Song Thrush, Robin.
09 /11/2017 - roughly 180+ Fieldfare, 60+ Redwing

30th October 2017
LATE AUGUST ONWARDS UPDATE
A long overdue update.....sorry. The last 14 Swifts were seen by Garry on the 25th August over Hunterheck. On the 30th at the Reserve were 8 Magpies (record total) and 1 Teal with 100 plus Chaffinch with a few Red Admiral butterflies around and a Hawker dragonfly.
Eight Greylag Geese over Moffat on the 1st September. Sue Powell from Annanside reported seeing a Hedgehog on the 4th and at the Reserve on the 6th were 4 Teal and 2 Bullfinch. While out delivering papers on the 8th there were 4 calling Chiffchaff and Bullfinches were at 3 locations with a Raven over Old Carlisle Road and the same area produced a sighting of a Red Kite from Evelyn Atkins. The next day at the Reserve were 16 Teal, a Willow Warbler, a Chiffchaff, a Willow Tit, 3 Bullfinch and 3 Magpies. Numerous Swallows and House Martins moving through and a flock of 150 plus Chaffinch feeding on wild seed with a few Greenfinch and Siskins. On the 13th a flock of 25 plus Greylag Geese over Moffat and the first Pink Footed Geese very high over Moffat the following day. At the Reserve on the 16th were 3 Jays, 2 Grey Wagtail, 2 Lesser Black Backed Gulls and Buzzard and Sparrowhawk with more Pink Footed Geese moving through. Other sightings at the Reserve on the 20th were 2 Willow Tits, 9 Teal and 5 Bullfinch. 5 Swallows were at Dumfries hospital and 2 calling Chiffchaff doing my paper round on the 23rd. There were 20 plus Swallows and House Martins moving through the Reserve on the 27th which turned out to be the last of the year with 3 Chiffchaff and a Willow Warbler still around and there were 29 Teal on the wetland. The last day of the month saw 2 Roe Deer at the reserve with 10 Teal, 5 Mute Swans overhead, 10 plus Long Tailed Tits and the Siskin flock was beginning to build up.
At the Community Reserve on the 4th October were a Mute Swan, 4 Mallard, 11 Little Grebe, 3 Cormorant, 1 Grey Heron and 3 Moorhen. The Reserve held 10 Mallard, 12 Teal, a Grey Heron, 9 Moorhen, 1 Sparrowhawk, 1 Buzzard, 6 Goldcrest, 12 Long Tailed Tit, 4 Magpie, 1 Mistle Thrush, 2 Bullfinch and 2 Tree Sparrow. The Siskin flock was 80 birds at the Reserve on the 7th with 17 Teal. At the Community Reserve on the 18th were 3 Mute Swan, 2 Mallard, 4 Moorhen, 5 Little Grebe and 2 Jays with 200 plus Siskin on our Reserve and a female Reed Bunting. The Teal flock was 42 birds on the 21st at the Reserve. Garry had 114 Fieldfare over Annandale Way on the 24th with 250 plus Fieldfare and 20 or so Redwing over the Orchard on the 28th.

29th August 2017
A summary of various sightings by Dave Bradshaw over the past few weeks -
Daer Reservoir 05/08/17 - Osprey with fish, Cormorant 5, Greylag Geese 8
Watermeetings 05/08/17 - Red-legged Partridge 2, Oyster catcher and Juvenile.
Daer Reservoir 10/08/17 - same Osprey again with a fish eating it on telephone pole. 20 Scotch Argus butterflies
Leadhills road 10/08/17 - Wheatear 3
Garden - Nuthatch, Sparrowhawk (seen last 3 days), Willow warbler 2
Daer Reservoir 10/08/17 - Went back this afternoon and to my surprise there was an Osprey on the telephone poles again with a fish, apparently freshly caught as it was still tail flapping as the bird was pulling it apart. From the rings on it legs, especially the blue plastic ring, it is the same bird as last Saturday.
BTO / WCBS Butterfly survey 2017.NT0500
17/07/17 - Ringlet 66, Small Heath 1, Meadow Brown 1, Small White 1.
21/08/17 - Red Admiral 2, Small Tortoiseshell 1, Peacock 3, Green-Veined White 7.
18/08/17 - 12 Long Tailed Tits flew from A701 cycle track over garden.
19/08/17 Dyke Farm Reserve - Willow Tit, female Teal, Magpie 3 (meadow feeding station). A pair of Moorhen with 5 newly hatched young on Middle Pond.
23/08/17 Dyke Farm Reserve - Willow Warbler 5, flew from plants by fence to first island by entrance gate.
29th June 2017
From Dave Bradshaw, surveys carried out earlier this month -
Stiddrigs, BBS square, 2nd Visit -
Skylark 4, Meadow Pipit 30, Wood Pigeon 3, Whinchat (3 Pairs), Lesser Redpoll 2, Goldcrest 1, Great Tit 1, Willow Warbler 5, Blackcap 1, Wren 4, Mistle Thrush 1, Grey Wagtail 1, Pied Wagtail 2, Chaffinch 6, Siskin 1, Grasshopper Warbler 1, Reed Bunting 2, Stonechat 2, Curlew 3, Starling 24, Robin 1, House Martin 1, Carrion Crow 5, Sand Martin 1,
Moffat, BBS square, 2nd Visit -
Wood Pigeon 9, Rook 14, Magpie 1, Great Spotted Woodpecker 2, Carrion Crow 24, Swallow 15, House Martin 8, Willow Warbler 10, Wren 12, Robin 4, House Sparrow 23, Chaffinch 7, Goldfinch 7, Blue Tit 8, Sand Martin 22, Goosander 1, Grey Heron 1, Sedge Warbler 1, Jackdaw 34, Nuthatch 6, Great Tit 6, Pheasant 3, Chiffchaff 2, Goldcrest 2, Garden Warbler 2, Stock Dove 1, Whitethroat 3, Spotted Flycatcher 1, Blackbird 6, Song Thrush 6, Siskin 2, Pied Wagtail 8, Blackcap 3, Starling 3, Linnet 6 (Adults Feeding 4 Juveniles) Reed Bunting 1, Collared Dove 2.
And some other sightings, 26th June -
Coatsgate area, Beattock -
Willow Warbler, Great Tit, Blackbird, Oystercatcher, Chiffchaff, Spotted Flycatcher, Carrion Crow, Jackdaw, Linnet 8, Meadow Pipit, Wheatear 3


9th June 2017
Some sighting reports from Dave -
02/06/17 - Our Reserve - Garden Warbler, Blackcap, Willow Tit, Juv Chaffinch, Wren, House Sparrow,. Sand Martin, Willow Warbler.
Leadhills Road - Short Eared Owl, Common Sandpiper, Snipe, Lapwing, Oystercatcher, Curlew, Buzzard.
Wanlockhead - Ring Ouzel, Red Kite.
Mennock Pass - Red Kite, Buzzard (5 together), Wheatear (3 pairs), Pied Wagtail, Meadow Pipit, Oystercatcher.


5/6/2017 - Our Reserve - Spotted Flycatcher, Blackcap, Willow Tit, Treecreeper, Willow Warbler, Pied Flycatcher (feeding young).
Dave managed to get photos of the Willow Tit and we have included one here as many of you have probably never seen one. It has recently become a 'regular' on the reserve.
30th May 2017
From Iain -
Kris Allan reported a Cuckoo calling from along the Waterside on 13th May and one was heard one calling in the Eskdalemuir area and the same observer heard a Grasshopper Warbler at the Reserve. Tom Thomson had a Dunnock nesting in his garden at Meadowbank Rise. Plenty Lesser Redpoll and Siskin being reported in local gardens on the 14th and a Common Cockchafer was seen and photographed (on her mobile) by Eileen Burgoyne in her garden. A Mallard was taking her brood of 5 ducklings to the ponds at the Reserve on the 14th.

Simon Tweedie reported the Greylag/Canada Goose pair at Earshaig pond again on the 17th (which have been photographed by Dave, shown here) and a Cuckoo calling from the direction of Stidriggs. Katrina Ireland had a pair of Lesser Redpoll and 7 Siskins in her garden along Ballplay Road. While at the Reserve on the evening of the 18th Lorna spotted a fine Roe Deer and a young Tawny Owl which had bred in one of the larger nest boxes and the Pied Flycatchers are back in the same box as last year. Jock had seen, on one of his visits to the Reserve, a pair of Greylag Geese on the wetland and 6 Greylag flew over the Reserve on the 20th while a pair of Swallows are building a nest in one of the top sheds where we have left open a hatch above the door so they can get in and out. I heard a Spotted Flycatcher in the direction of Dyke Farm. Anne Gibbard heard a Cuckoo on the 23rd in the direction of the Well Hill and the following day a Tree Sparrow was on feeders up in the Orchard area and 4 Greylag flew over. On Saturday 27th a Red Kite was being mobbed by 2 Black Headed Gulls over the town and headed off over the Gallow Hill and Hugh and Marion Thompson had a fine view of this splendid raptor while 7 Greylag flew over the Reserve and the Whitethroat was calling along the roadside near the Reserve and a Spotted Flycatcher was heard in the woodland area.
And some sightings by Dave Bradshaw -
Longbedholm 24/05/2017 :
Robin 5, Mistle Thrush 2, Carrion Crow 3, Buzzard, Pied Wagtail, Lesser Redpoll, Dunnock, Wren, Grasshopper Warbler, Roe Deer, 3 Brown Hares.
Earshaigs/Southern Upland Way 25/05/17 :
Willow Warbler 7 singing males, Tree Pipit, Robins (many), Mistle Thrush, Swallows 4, Chaffinch, Lesser Redpoll, Siskin.


19th May 2017
Results of Dave Bradshaw's BBS surveys -
BBS 1km square Stiddriggs 11/05/17 :
Curlew 2, Wood Pigeon 1, Rook 2, Carrion Crow 6, Goldcrest 1, Great Tit 1, Skylark 7, Sand Martin 1, Swallow 5, Willow Warbler 8, Mistle Thrush 1, Blackbird 1, Wren 6, Robin 2, Whinchat 3, Stonechat 6, Wheatear 1, Pied Wagtail 1, Meadow Pipit 23, Chaffinch 7, Redpoll 3, Crossbill 5, Goldfinch 1, Siskin 1, Reed Bunting 2.
Revisit 17/05/17 (this side of the river only, Transects 1- 4) :
Skylark, Whinchat, Grey Wagtail, Cuckoo, Redpoll, Robin, Chaffinch, Reed Bunting, Meadow Pipit.
BBS 1 Km Square Moffat 14/05/17 :
Collared Dove 1 , Wren 8, Pheasant 7, House Sparrow 6, Song Thrush 6, Swallow 14, Dunnock 1, Blackbird 8, Willow Warbler 9, Carrion Crow 17, G S Woodpecker, Great Tit 5, Whitethroat 2, Oystercatcher 7, Chaffinch 7, Garden Warbler 3, Chiff Chaff 1, Robin 10, Wood Pigeon 10, Jackdaw 32, Rook 5, Greenfinch 2, Goldfinch 5, Goldcrest 1, Grey Wagtail 1, Sand Martin 1, Redpoll 4, House Martin 6, Blue Tit 6, Blackcap 2, Goosander 1, Osprey 1, Pied Wagtail 1, Herring Gull 1.
Earshaigs 18/05/17 :
Wheatear & Meadow Pipit (Crooked Road), 9 singing Willow Warblers, Robin, Song Thrush, Chaffinch,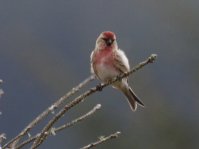 Canada/Greylag Pair, Moorhen, Spotted Flycatcher, Redpoll, Siskin, Carrion Crow.
Dave has sent a few images, among them is this one of a male Lesser Redpoll that we thought would brighten up the page! Such colourful little birds.
13th May 2017
Latest from Iain -
At the Reserve on the evening of the 20th were at least three recently hatched Moorhens close to Jocks hide and more Swallows and Willow Warblers were being reported. On a Saturday morning run up to Watermeetings to Daer Reservoir with Lorna we saw the following.....50-60 Lapwing, 80-90 Oystercatcher, 30 Curlew, 7 Redshank, 2 Ringed Plover, 1 Snipe, 2 Common Sandpiper, 9 Greylag Geese, 11 Mallard, 2 Goosander, 4 species of gulls, 6 Red Legged Partridge, 2 Buzzard, Kestrel, 5 Willow Warbler, 3 Chiffchaff, 4 Swallow, 20 Sand Martin, 2 Wheatear, 25 Wood Pigeon, 30 Meadow Pipit, 3 Skylark, 7 Pied Wagtail, 8 Song Thrush, 7 Blackbird, 2 Treecreeper, 2 Raven and various other tits, finches, crows, etc. On the morning of the 23rd, 2 Mute Swans flew over the town. Simon Tweedie reported a Canada Goose paired up with a Greylag Goose up at Earshaig pond on the 25th and at the Reserve the following day were Willow Tit and Tree Sparrow. On the 28th at the Reserve was a calling male Pied Flycatcher with more Sand Martins, Swallows, Willow Warbler and Chiffchaff around. A female Mandarin duck was reported at Eskrigg Nature Reserve. The month of May got off to a great start for Garry Tait on the 2nd with three great sightings in one day.....a pair of Kingfisher at Three Waters, a newly arrived Spotted Flycatcher and a magnificent male Hobby at The Toot....this raptor is being seen in our area on a regular basis these days...any other sightings?? While washing the dishes at home on the evening of the 5th a lovely Osprey flew past the window.....pretty good. After our successful Coffee Morning on the 6th the first Swifts appeared above the town. A Tree Pipit was recorded up at Earshaig ponds by Simon Tweedie on the 8th and the following day a pair of Red Kite and an Osprey in the Camps Reservoir area. At our Reserve on the 10th was the male Pied Flycatcher (a pair had been seen the previous day) and Tree Sparrow again...possibly 2 birds. On the Community Reserve were 2 Moorhen, 2 Oystercatcher, 3 Mallard, 2 LBB Gull and 2 Black headed Gulls. Garry had a Garden Warbler at The Toot on the 11th and the pair of Red Kites were seen close to Moffat once again.
And from Dave Bradshaw on the 9th -
Went the Quarry and our reserve this afternoon. Unusual sighting - 1 Pink footed goose on first raft in quarry. An Osprey circled over for a couple of minutes then drifted off towards Beattock. Saw the male Pied Flycatcher at our reserve and met two visitors in the reserve who had seen both male and female.
Quarry - 4 singing Willow Warblers, Garden Warbler, Pink-footed Goose, 2 LBB Gulls, 2 Canada geese, 1 Mallard, Osprey.
Our reserve - Blue Tit, Great Tit, 2 Blackbird, House Sparrow, Nuthatch, 2 singing Willow Warblers, Sedge Warbler, 5 Sand Martins, male Pied Flycatcher, Chaffinch, Pheasant, Mallard, Moorhen, Blackcap.

7th May 2017
We are delighted to inform you that our Annual Coffee Morning, held yesterday, raised the impressive total of £1810. This will go a long way towards maintaining and improving our Nature Reserve. We have recently undergone the provision of new paths, ponds and seating around the Orchard area. The summer will be spent largely on path maintenance and cutting back on intrusive vegetation (leaving plenty for the wildlife). Later in the year we are hoping to obtain a considerable number of low-growing trees/shrubs and plant up a new shelter hedge, a fairly major undertaking.
As always, our heartfelt thanks go to all who contibuted to the various stalls, all who gave their time to running them on the day and, of course, those who dealt with the teas and coffees! We must, of course, also thank all those who came in and spent their money on our offerings as, without you, we would never have reached such a remarkable total.
Thank you, one and all.
18th April 2017
From Iain -
Ken Hines had an Osprey hunting over the River Annan near Lockerbie creamery on the 10th April and the following day he had a pair of Siskin and a male Lesser Redpoll in his garden. These two species and Goldfinch are usually at peak numbers in local gardens and many gardens have been lucky to have these three colourful finches. There were 3 Raven over Meadowbank Rise on the 15th while I was out delivering. At our Reserve were 3 Willow Warbler, 2 Chiffchaff, 10 plus Sand Martins, 2 Buzzard, 1 Jay, 6 Moorhen, 11 Mallard, 2 Teal, Long tailed Tit and 3 Song Thrush with at least 6 Rabbits which is the most for a very long time. Summer migrants are slow arriving probably due to our changeable climate.....which is not surprising!!
And from Dave on the 13th -
Field opposite Bankend Wood : 4 Linnets, 2 Meadow Pipits, Wren.
Evan Water : Dipper feeding young under bridge, Chiff Chaff.
Annandale Way over field from Barnhill road towards our Reserve : 4 Sand Martins, 42 Meadow Pipits (walls and barb wire full off them), Pied Wagtail.
Quarry : 2 Lesser B B Gulls, 3 Cormorants, 10 Oystercatchers, 1 Grey Heron
Our Reserve : 2 Teal, Buzzard, Nuthatch, 2 Greenfinch, Goldfinch, Chaffinch, Blue Tit , Great Tit, Song Thrush, 18 Sand Martins over the field at the back, 2 Mallard. 1 Roe deer (meadow)

13th April 2017
Latest from Iain - A Red Kite was seen near Dumfries by Maurice Henderson on the 6th April. Garry Tait had 2 Wheatear and 4 singing Skylark up the Crooked Road on the 7th while 8 Sand Martin were at the Reserve. Jim Marrs had two first sightings for his garden in the form of a Brambling and a Redpoll while Kate Warters saw a male Bullfinch in her sisters garden in Reid Street.
Dave Bradshaw had a Wheatear up the Crooked Road on the 8th and signs of migration with at least 700 Pinkfeet heading North in 20 minutes. The following day Dave had the first 2 House Martins over Cornal Court and a Swallow and Sand Martin along the Barnhill Road. I paid my first visit to the Reserve for 8 weeks and 1 day, with Lorna, on the Sunday night which was really good to do. The team have done a brilliant job looking after the Reserve and there were plenty birds around with 5 Sand Martins, a Chiffchaff and a Willow Warbler around with 7 Teal, 16 Mallard, 3 Grey Heron and 5 Moorhen on the wetland. The woodland was full of small birds such as Siskin, Redpoll, Greenfinch and 2 Song Thrush among many others. At the Community Reserve there were 2 Lesser Black Backed Gulls, 3 Canada Geese, 3 Little Grebe, 17 Oystercatcher, 2 Buzzard, 2 Swallows and 10-12 Sand Martins over the lochan. While Dave was out on the 11th he saw a few Lapwing sitting at the Watermeetings, Elvanfoot area but no Golden Plover around while the Leadhills Road had Wheatear but no Red Grouse around. The Mennock Pass had Raven and Wheatear but no Ring Ouzel yet. An early morning visit to Earlshaugh just North of the Beef Tub by Garry on the 12th rewarded his efforts with 2/3 Curlew, 6 Black Grouse and a great sighting of 5 Dotterel as they head North which was great.
12th April 2017
Advance warning - access to our photo gallery is to be discontinued soon. The number of 'hits' is so small that it is not worth our while keeping it. The web space saved can be made available for more current items instead. Any objections from anyone?
4th April 2017
Some sightings that were inadvertently missed out on Iain's previous report -
Garry had a Chiffchaff at our Reserve on 24th March. Lindsay Bowman saw a Merlin up the Greenhillstairs on the 26th. On the 27th Simon Tweedie reported seeing a Cormorant on the Earshaig Pond for the first time there. There were small numbers of Crossbill in the area and plenty Frogs spawning. The same day Dave had a calling Chiffchaff at Beattock and a Treecreeper was singing too.
And some sightings by Dave on 2nd April -
Evan Water:
Chiffchaff, Dipper nesting under motorway bridge.
Barnhill road:
Chiffchaff 2, Pied Wagtail 2
Quarry (Community Reserve):
Cormorant 3, Oystercatcher 8, Lesser Backbacked Gull 2, Moorhen 1
Our reserve:
Teal 2, Mallard 3, Grey Heron, Pheasant 1, Chaffinch 14, Song Thrush 2, Nuthatch, Blue Tit, Great Tit, Wren. 4 Roedeer on meadow (3 female 1 male).
No further sighting of the Swallow at Beattock.

2nd April 2017
From Iain -
A reliable report of 2 Red Kites to the North of Moffat on 30th March was noteworthy in an area with various

sightings over the last couple of years. John Smith had a Blackcap in Greenwood Close on the 31st March. Garry reported a number of Chiffchaff at our Reserve on the 1st April and a pair of Reed Bunting were at the feeding station in the Orchard area. Sand Martins were on the Nith at Dumfries. Annie Will from Haas Cottage had two "melanistic" female Pheasants in her garden at Beattock on the 2nd April. Dave Bradshaw has a Swallow on wires outside his house in Beattock which is pretty early (photo).
26th March 2107 (updated)
Iain's report - On 9th February at the back of the Balmoral Hotel, Garry saw 8 Brambling and 2 Crossbills which were both good sightings. The following day Garry also saw 5 Oystercatcher on the rafts at the Community Reserve with at least 8 Little Grebe on the lochan. On the 11th at the Reserve we had a busy day chipping logs and branches though the weather was wet and windy. There was a Willow Tit near the Orchard with 30 Mallard and 20 Teal on the wetland with 2 Buzzards around. While out on my last day delivering before going into hospital for my hip replacement, while out at Meadow Bank and Meadowbank Rise at least 350 Jackdaws and Rooks were leaving there nearby roost site and 2 Ravens also flew over. A fair gap in sightings due to my recovery period....sorry. Dave Bradshaw reported that one of his neighbours in Cornal Court had up to 75 Siskin in his garden which is a fantastic total and must have been an amazing sight. There was a good record from Alan Roulston who saw a Green Woodpecker near the Reserve in the trees where we park our cars on the 11th. If anybody does see a Green Woodpecker please let us know as we think there could be more around in slightly more rural areas out of view from most humans....keep your eyes open. On Sunday 12th many Pink Footed Geese were heading north over the town. On the 14th an email from Ken Hines with some of his recent sightings.....a Goldcrest on the cycle path near the Evan Water bridge, a Cormorant over the same bridge heading towards Moffat and on the Sunday his first spring sightings of Oystercatcher over Telford House. Also perhaps as many as 2000 Pink Footed Geese .....flying around apparently looking for somewhere to feed as there was a lot of thick low cloud perhaps preventing them flying North. In his pond which is only 8 foot by 4 foot he also had 20 plus Frogs spawning which was a good count and shows that you do not need a huge pond to attract wildlife. A Brown Hare was seen up Gallow Hill by Mr Muirhead on the 15th. The first local Osprey of the Spring was seen on the 17th heading up Moffat Water valley which was good news. Ken Hines reported seeing a small pipistrelle bat while driving into Moffat, near The Knowe... mid morning on the 24th March which was noteworthy. I may have misplaced or forgotten to write some of your records down and I can only apologise for that.....hopefully normal service will resume as I am almost back to work as normal and the exciting Spring period is upon us.
John has a couple of items to add - frogs arrived in his pond on 20th Feb, first spawn shortly after. Despite the pond being, quite literally, under water a day or two later (some 2 inches of fast flowing floodwater above the top of the pond) the spawn survived. More frogs active (50+) over the following few days. A single female Brambling visited on 16th March. On milder days, an occasional bumblebee around but the summery day yesterday (Saturday) brought out quite a few. The warmth also brought out a few butterflies with both Red Admiral and Peacock seen. Oddly, today, despite being even warmer, had virtually nothing on offer!
Dave Bradshaw visited the reserves on Friday (24th March)-
Our reserve - 8 Teal, 5 Mallard, 2 Buzzard, 2 Greenfinch, 3 Robin, 2 Song Thrush, 3 Blue Tit, 2 Nuthatch, 4 Great Tit, 1 Treecreeper, 19 Chaffinch, 3 Stock Dove, 2 Pheasant, 1 Pied Wagtail, 1 Roe Buck (antlers about15 inches).
Quarry -
4 Mute Swan (2 adults 2 juveniles), 16 Oystercatchers, 5 Cormorant, 5 Mallard, 1 Moorhen, 2 Teal

Dave also sent some cracking photographs - here are just four -
First is of a Garganey drake, second is a GreenWinged Teal drake showing how colourful a bird it is, third is a Little Egret and the fourth is a cheeky Woodmouse in Dave's back garden.
12th February 2017
The 2016 County Mammal Report (covering SW Scotland) has been sent to us by Andy Riches. You can view it here.
Iain's latest report -
7th January produced a Water Rail in the "stoorie burn" at the Reserve which was the first there for a while and there were also 12 Teal, 36 Mallard, 3 Grey Heron, male Kestrel, a Buzzard, Sparrowhawk, 100 plus Chaffinch, a Willow Tit, Magpie and Jay. Roger Grant reported a Red Squirrel near St Anns bridge on the 11th and a Fox and 3 Roe Deer were at the Reserve with 29 Redwing, 27 Teal, 4 Pheasant , 2 Buzzard and a Willow Tit. Garry reported on the 13th that 2 Red Kites were above Ruxton's Dump up the Edinburgh Road and a belated report of a Barn Owl further up the valley a few days previous. At the Community Reserve on the 14th were 2 Mute Swans, 1 male Tufted duck, 14 Mallard, 7 Teal, 9 Little Grebe and 3 Moorhen. Apart from all the usual birds at the Reserve at least 1000 Pink Footed Geese flew over around 11am or tea time.....probably lasted until 11.30am.....Garry reported a pair of Smew on Fruid reservoir on the 16th which as an exceptional record. On the 18th at home at Park Circle waiting for Garry to pick me up there were in excess of 200 Chaffinch in the trees beside the foot bridge. At the Reserve 2 Goosanders flew past and the male Kestrel put in another welcome appearance. While delivering papers on the morning of the 20th I heard a few Wigeon flying overhead. On the morning of the 25th Alan Smith reported hearing an Oystercatcher passing over the town and 20 minutes later while delivering at Ettrick Drive I also heard one. At the Reserve that morning were 33 Teal, 43 Mallard, 6 Moorhen, a Mute Swan overhead and 800 plus Pinkfeet passing over. On 1st February at the Reserve were 30 each Teal and Mallard and on the Community Reserve were 10 Little Grebe, 12 Teal and 2 Grey Heron. On Sunday 5th John Smith had a Peregrine over his Greenwood Close garden and a single Goldcrest too. Bob McGoran reported a young/male Sparrowhawk sitting on his garden wall after a failed attack which provided good views and he said that he usually gets a female Sparrowhawk visiting his garden. Richard Bligh also reported an Oystercatcher at his workplace near Lockerbie on the 7th of the month.
Finally, a few more of Dave Bradshaw's photographs. The Long-tailed Tits were snapped in early January, the rest earlier this month. The Herring Gull seems to have got quite a feast!

| | | |
| --- | --- | --- |
| Long-tailed Tits | Purple Sandpiper | Dunlin |
| Great Grey Shrike | Herring Gull | |
7th January 2017
We wish you all a very Good New Year!
A few items for you this time. We kick off with the latest summary from Iain -
On the 16th November at the Reserve were 20 Teal and good numbers of Fieldfare while on the 19th a female Reed Bunting was at Jocks Hide and 7 Whooper Swans were on the fields adjacent to the reserves. At the Community reserve on the 23rd were the usual Little Grebes, a Cormorant, a Kingfisher and 8 Teal. At our Reserve were 2 Willow Tits among very good numbers of other small woodland birds and 7 Moorhen. 2 Grey Heron and a Buzzard. Tom Thomson reported a male Bullfinch and a Pheasant among his garden birds and I heard some Wigeon flying over the town at night on the 27th. On 1st December Lesley Robson from Hillside Terrace reported a single Brambling and a pair of Bullfinch and the following day Dave Bradshaw reported 45 Waxwings at Heathall. On 3rd December Garry Tait saw a flock of 28 Waxwings in Dumfries town centre. In the morning at the Reserve were 16 Teal and a male Kestrel with 3-4 skeins of Pinkfeet moving overhead. While out delivering papers on the morning of the 5th I saw 3 Goosanders flying over Dowding House. On the 14th Alan Beavan and his wife reported seeing up to 6 different Red Squirrels at Craigielands and up to 5 Buzzards up the Crooked Road area. Mathew White reported an Otter up at Craigieburn on the 15th and, the day after, John Smith had unusually large numbers of Blue Tits feeding on a bush in his garden at Greenwood Close while a Brambling put in an appearance the following day. Garry Tait, while passing the Loch of the Lowes, saw a family of 7 Whooper Swans and a Slavonian Grebe, which was noteworthy, and they stayed for a while. Richard Clarkson reported 8 Waxwings at Ecclefechan on the 19th while at the Reserve on the 21st were 24 Mallard and a count of 49 Teal which was excellent and there were still over 40 Teal around on the 28th though they move when the Reserve wetland is frozen. On the final day of the year while working at the Reserve the full gang of five.....comprising myself, Garry. John, Jon and Doug.....saw a good flock of 150 plus Siskins and 40 Mallard while on the way back to his van near the Water Bore Hole a small group of 5 Waxwing were spotted by Garry which was a great way to finish off 2016. While speaking to Dougie McMillan in the shop on the 3rd January he was telling me that he had seen up to 8 Woodcock at Lawesknowe which was a good count. Our first visit to the Reserve on the 4th saw the wetland ponds mostly frozen and a count of 10 Teal were using the ditches for feeding and a pair of Great Spotted Woodpeckers were displaying and chasing each other up the Orchard area of the Reserve.
And some sighting reports from Dave Bradshaw -
27/12/16 Quarry - Teal 3, Little Grebe 9, Mallard 38, Cormorant 3, Long-tailed Tit 12, Wren.
01/01/17 Moffat Country Park - Mute Swan 6 (still has last years young with them), Teal 3 (first time recorded there), Mallard 8, Moorhen 9, Blue Tit 3, Wren, Little Grebe 2.
02/01/17 Beattock village - Long-tailed Tit 10
02/01/17 our reserve - G S Woodpecker 2, Grey Heron, Great Tit 9, Moorhen 2, Mallard 1, Coal Tit 2, Blue Tit 3, Robin 2, Blackbird 3
02/01/17 Quarry - Little Grebe 2, Mallard 8, Teal 5, Cormorant 1, Moorhen 1.
And a selection of Dave's recent photographs:

| | | |
| --- | --- | --- |
| Barnacle Goose | male Green-winged Teal | male Pintail |
| Whooper Swan & cygnet | Yellowhammer | Twite ('Heather Linty') |
A request from Andy Riches: any further bird reports for Castle Loch or Hightae Loch should be sent to him ASAP. Also any further mammal reports should be sent to him no later than 28th January. This is so that he can complete the recorsd for 2016.
If you don't have contact details for Andy, please give John a shout and he will put you in touch.
Website changes
To free up space for new material, our archived news pages for 2011, 2012 & 2013 are no longer posted on the site. If anyone wishes to refer back to them, please contact John. The pages are still held on our sources although no longer published. Also removed are articles originally published in the printed Newsletters. They too are available on request. Other pages on our site may also be removed or consolidated to free up space. For the more technically minded, we have 100Mb of webspace available. Pictures, as we receive them, can run to quite a few Mb each which is why we reduce their size before publishing - and they can still reach 1Mb each. This does not leave us with a lot of leeway!


---
All entries for 2016 have been archived. View by clicking here or on menu at left.